Kenneth Jones – Executive Director and President
Mr. Jones is a Managing Partner at Fusion Ventures, LLC and the President of Fusion Capital, Inc – focused on developing high growth businesses. Mr. Jones' subject matter expertise is in leading consortium based projects to use innovation strategy to develop competitive advantage in markets with powerful incumbents.
Before founding Fusion Ventures, Mr. Jones was a business strategy consultant with Booz Allen Hamilton with the Economic and Business Analysis team, providing strategic leadership to public-private partnerships in the Healthcare market for over 10 years. In his most recent role, Mr. Jones has been the interim Chief Strategy Officer for a Maryland-based technology firm with plans to grow from geographic expansion and acquisition. His efforts have created over $11M of shareholder value through improving revenue from $17M to $24M, increasing operating income from $900K to $1.3M, and implementing a strategy that required no financing from external sources (purely organic growth).
In 2008, he co-founded the Kellogg Venture Community (KVC) a 501(c)3 non-profit organization focused on educating community members in advanced business and entrepreneurial practices. Mr. Jones' consortium leadership capabilities as well as his knowledge of commercializing innovative business models make him a force multiplier for high growth client firms.
From 2004 – 2007, Mr. Jones led the Oversight Board for the National Institute of Health's Cancer Bioinformatics Grid initiative that, to date, has connected over 150 disparate cancer research facilities around the nation in a focused effort to cure cancer through collaboration and information sharing. This is an ongoing $100M+ initiative focused on facilitating innovation through connecting non-obvious networks to develop novel solutions to curing cancer.
Mr. Jones is an MBA and graduated from the Kellogg School of Management at Northwestern University. He holds a BS in Mechanical Engineering from the James A. Clark School on Engineering, University of Maryland at College Park.
David Schonthal – Co-Founder
Mr. Schonthal is a Managing Partner at Fusion Ventures, LLC. Prior to Fusion Ventures, David served as Director of Strategy and Venture Development for Tavistock Life Sciences, part of the Tavistock Group – a private investment company with broad holdings in 15 countries. In his role at Tavistock David was responsible for evaluating, developing and transacting businesses in several sectors, including: biotechnology, consumer packaged goods, health care diagnostics, technology, food and beverage, medical devices, services and retail.
David earned his MBA from The Kellogg School of Management at Northwestern University and his B.A. in International Relations, magna cum laude, from Boston University. He is the Co-Founder of the Kellogg Venture Community, an entrepreneurship-focused non-profit organization which helps student and alumni innovators launch and grow new businesses. David is a member of the San Diego Zoo's Innovation Council and serves as an Entrepreneur in Residence for CONNECT, a new business incubation organization in San Diego, CA.
Robert Wolcott – Director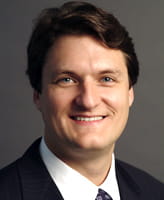 Robert Wolcott is the Executive Director of the Kellogg Innovation Network (KIN) and a Lecturer of Entrepreneurship & Innovation at the Kellogg School of Management, Northwestern University. He teaches corporate innovation and entrepreneurship for Kellogg in Evanston, Miami and Hong Kong (with HKUST). Formerly a Visiting Professor at the Keio Business School (Tokyo, Japan). Advisor to NORDEN, the Nordic Innovation Center, Nordic Council of Ministers, Oslo, Norway, and a member of the Global Technology Council of Kraft Foods, Inc.
His new book, with Dr. Michael Lippitz, Grow From Within: Mastering Corporate Entrepreneurship and Innovation (McGraw-Hill) launched in October, 2009. Wolcott's work has appeared in MIT Sloan Management Review, The Wall Street Journal, Advertising Age, BusinessWeek, The Financial Times (UK/European Edition) and The New York Times. He is a frequent speaker at events worldwide.
In 2003, Wolcott began leading the Kellogg Innovation Network, created as a key program within Professor Mohan Sawhney's Center for Research in Technology and Innovation. The KIN's annual summit, KIN Global, takes place in late Spring and includes leaders from around the world from business, government, academia, non-profits and the arts who collaborate around issues of significance for their organizations and for humanity. www.kinglobal.org
Wolcott also co-founded and serves as Managing Partner of Clareo Partners LLC, a corporate strategy and innovation management consultancy specializing in new business creation and growth (www.clareopartners.com). Subsidiary Clareo Capital owns equity in companies in social enterprise and luxury markets. Clareo's headquarters, Clareo Studio, created in partnership with Herman Miller, Inc., serves as a collaboration space for special events, corporate off-sites and performances dedicated to innovation, entrepreneurship, social awareness and general inspiration.
Wolcott received a BA, European and Chinese History; and an MS and Ph.D., Industrial Engineering & Management Science, Northwestern University, Evanston, Illinois. He and his wife, Ada Yung, have a young daughter, Jolie, and reside in Chicago, Illinois.
Carlos Del Carpio – Director
Carlos concentrates on counseling and representing insurance companies with regard to insurance coverage and extra contractual matters. His practice involves a wide range of insurance issues and policies including general liability, errors and omissions, directors and officers, and first party property.
Before returning to private practice with Meckler, Bulger, Tilson, Marick & Pearson LLP, Carlos served as Vice President, Director Claims Strategic at RiverStone Claims Management LLC for over a decade. At RiverStone Carlos focused on evaluating, litigating, and resolving many of the most volatile and complex exposures faced by affiliated insurance companies, including TIG Insurance Company. He has extensive experience in a wide variety of insurance coverage and extra contractual matters, particularly with long tail claims such as asbestos, pharmaceutical, and environmental losses.
Prior to joining RiverStone, Carlos practices as a partner at Bollinger, Ruberry & Garvey, where his national practice concentrated on counseling and representing insurance companies in a broad range of insurance coverage matters. His practice involved a variety of underlying losses and liabilities, including contamination of groundwater, soil, air, and buildings, damage to tangible and intangible property interests, and bodily, personal and advertising injury. Carlos was responsible for advising and representing insurers with respect to general liability, package, errors and omissions, directors and officers, and first party property policies. In addition, his practice included drafting insurance policies and endorsements.
Carlos lectures regularly on topics relating to insurance coverage and extra contractual obligations. He is a graduate of the Northwestern University School of Law and holds and M.B.A from the Kellogg School of Management.
Julie Buxton – Co-Chair of the KVC Marketing Committee
Julie Buxton currently serves in two different roles for CB Richard Ellis, the only global full-service commercial real estate service company on the Fortune 500. In her primary role as Director of Operations Central Region for Global Corporate Services (GCS), her responsibilities include developing strategy and monitoring implementation of account improvement processes and client satisfaction while serving as a liaison between transaction management teams, project management leadership, business development, consulting experts, and account directors to serve portfolio clients. Julie's secondary role as an Alliance Manager in Energy Management & Sustainability involves the oversight of the Commodity Management service line and the engagement & management of third-party energy & ancillary service providers to achieve savings & procurement targets determined by CBRE's GCS clients based on their customized energy management portfolio strategy.  Formerly Trammell Crow Company (TCC), Julie joined TCC in Dallas in 2005 prior to TCC being acquired by CBRE in 2006.
Before her career in commercial real estate, Julie traded electricity working for both an energy marketer, Williams Energy Services in Tulsa, Oklahoma and a utility, Texas Utilities (TXU) in Dallas, Texas. While at Williams Energy where she began her trading career on the West Power Desk, Julie became one of the most profitable traders on the trading desk. Before leaving Tulsa for Dallas, she completed a Princeton Energy Programme of derivatives – Fundamentals of Energy Futures and Fundamentals of Energy Options. While trading the ERCOT market for TXU in Dallas, Julie earned a Certificate in Entrepreneurship from Southern Methodist University.
Julie will graduate from the Kellogg School of Management Executive MBA program in December 2009 and holds Bachelor of Science in Finance from The University of Tulsa.
Professionally, Julie is a CCIM candidate and a member of ICSC. Before relocating to Chicago, she was an active volunteer for the Dallas Zoo, Central Dallas Ministries, Highland Park Presbyterian Church and Finance Chair for the Junior League of Dallas. Now living in Chicago, Julie serves on the Diversity Steering Committee for the Junior League of Chicago & volunteers through One Brick.
Henry Hwangbo – Co-chair of the KVC Portfolio Management Committee
Henry Hwangbo is a Principal with Diamond Management and Technology Consultants, Inc. Diamond is a management and technology consulting firm with a focus on IT advisory services. Diamond serves Fortune 1000 clients across multiple industries such as financial services, logistics, manufacturing, retail and distribution, telecommunications, utilities, healthcare, insurance, and public sector organizations.
Henry has over 12 years of consulting experience primarily focused on the insurance industry, but also has experience in financial services and telecom across a wide variety of functions such as IT strategy, complex program management, enterprise architecture, and customer experience. Henry has worked on a variety of projects from developing a person-to-person payments platform, performing CVM analysis for subscriber-based businesses, designing/building an intermodal trading system, assessing "business-as-usual" costs, and architecting/implementing a policy administration system. Henry is recognized as a creative problem solver, able to think strategically and tactically to resolve unexpected challenges from a business and technology perspective in ambiguous environments.
Henry is currently enrolled in Kellogg's Executive MBA program with a Dec 2009 graduation date. He holds a Bachelors of Science Degree in Computer Engineering from the University of Illinois in Urbana/Champaign.
Henry has a personal interest in innovation, entrepreneurship, and technology. He is very interested in using his experience and knowledge to build something from the ground up and watch it grow into a successful business.
Sri Navalpakkam – Co-chair of the KVC Portfolio Management Committee
Sri Navalpakkam is a Management and Business Consultant and provides accelerated and transformative business value with keen focus on achieving client's business outcomes. His specialties include IT strategy, Transformational Cost Containment, Technology planning and road mapping, Enterprise Architecture and Solutions Delivery to stabilize, support and advance business growth. Sri has led numerous enterprise initiatives that resulted in effecting sustainable change including M&A integration/divestiture/spin-offs, mega outsourcing/off-shoring projects. He articulates the business value of IT succinctly, drives and maximizes IT-Business alignment and identifies, champions opportunities where technology can enable business transformation. Sri is an excellent communicator and negotiator for enterprise contracts with vendors. Sri is effective in conflict management and supervising high-performance staff globally.
Sri has broad and deep expertise in working with CxOs and has held senior management positions as Consulting Partner, Principal/Strategy Consultant, Vice President – Methodology and Solutions Delivery at SPSS, Sr. Director of Architecture and Strategy at Sears Roebuck and Co., Managing Director at CNA Insurance and Chief Architect at Meritage Technologies. Sri has led several client initiatives on business process optimization (BPM, BRMS), architecture strategies (SOA, MDM, BI etc.), supplier aggregation/re-negotiation, demand management (Project Portfolio Management and Business Value Analysis) and resource optimization. In his role as a Practice Leader for solutions business for Technology firms, he drove the strategy content, roadmap program, solutions delivery increasing profitable revenue growth (>$50M). Sri has worked across industries in Retail, Healthcare, Insurance, Financial, Telecommunications, Security Monitoring, Distribution/Supply Chain, Software/technology companies etc. He is experienced in turnaround and change leadership and has keen interest in sharing insights, best practices, technology leading trends and innovation themes. Sri speaks at premier IT and EA conferences and has published articles on leading industry publications.
Sri, a founding member of Kellogg Venture Community (KVC), co-chairs the Portfolio Management committee of KVC. Sri also founded and co-chairs AITP's Enterprise Architecture (EA) SIG and is a top 20% Gerson Lehman Group (GLG) scholar and a technology advisor to private equity and investment firms. Sri is currently pursuing Executive MBA at Kellogg, Northwestern University and has an integrated Master's degree specializing in computer and Information systems from BITS, Pilani, India.
Patrick Smith – Co-chair of the KVC Strategic Partnerships Committee
Patrick Smith is co-founder and managing partner of Innovation Advisory Group, LLC (IAG); a consulting firm focused on providing clients with innovation market matching and best practice innovation services. Patrick's work at IAG enables clients to bring their ideas and issues to a cross-functional team of leading Kellogg Executive MBA alumni for rigorous and holistic innovation reviews, innovation governance services, and full service innovation program and project engagements.
Prior to founding IAG, Patrick had a 16-year career at Motorola as a manager and engineer. His experiences included high tech manufacturing operations, software and hardware product development, corporate research, intellectual property strategy, business development, marketing, and emerging technology consultation for the corporate architecture and business strategy departments. At Motorola, Patrick worked in large corporate and startup efforts. Patrick is a founding member of the team that designed and took to market the world's first cable modems, this industry leading effort became a multi-billion dollar industry and a continued Motorola success. He holds 10 USPTO patents.
Patrick holds a BS from Bradley University, Peoria, IL an MS in Electrical Engineering from the Illinois Institute of Technology, Chicago, IL and an Executive MBA from Northwestern University's Kellogg School of Management, Evanston, IL.
Tucker H. Marshall – Co-Chair of the KVC Finance Committee
Mr. Marshall is a Vice President for The Reserve Group, a Northeastern Ohio family-based private equity firm. The Reserve Group focuses on the acquisition, the revitalization, and the expansion of basic manufacturing companies. As a member of the Reserve Group, Tucker primary responsibilities include leading, supporting, and working with teams on the identification, the execution, and the integration of acquisition and divestiture opportunities. Tucker joined The Reserve Group in the summer of 2004 after spending five years as an Associate in the Mergers and Acquisitions Group of LaSalle Bank, N.A., located in Chicago, Illinois. As a generalist in an investment banking environment, Tucker supported a wide variety of buy-side and sell-side transaction assignments for middle-market clients. In addition to his experience in M&A, Tucker spent time working in the Leveraged Finance Group of LaSalle Bank, N.A. focusing on acquisition finance or cash-flow lending transactions. Tucker's business career began at LaSalle Bank, N.A., a subsidiary of ABN AMRO, as an Analyst in their Corporate Finance/Commercial Lending Training Program and was then selected to join the Investment Banking Group.
Tucker has a Master's of Business Administration from the J. L. Kellogg School of Management at Northwestern University. Tucker was graduated from Gettysburg College with a Bachelor of Arts in Economics, Accounting, and Finance in May of 1999. In addition to his time at Gettysburg, Mr. Marshall spent the summer of 1998 studying at the London School of Economics in London, England. Tucker attended Western Reserve Academy during his high school years.
In addition, to his business background, Tucker is a director on the Ideastream Public Radio & Television board, a director on the Child Guidance & Family Solutions Foundation board, member of the Western Reserve Academy's Alumni Association board, and participates on several boards of privately-held middle market companies. Tucker and his wife, Holly, and his son, Tucker, live in the Northeastern, Ohio area.
Vaughn Moore – Co-chair of the KVC Fund Raising Committee
Vaughn Moore is the Vice President of Sales and Marketing for AIT Worldwide Logistics, a global transportation organization with more than 750 employees, 35 nationwide locations and $315 million in 2008 annual sales.
Vaughn's diverse spectrum of responsibilities begins with managing regional vice presidents and over 65 nationwide sales representatives, who sell both international and domestic full-service logistics solutions. Vaughn also specializes in public speaking, recruiting and hiring at all levels within the organization and managing the company's profit and loss.
Previous to his career at AIT, Vaughn spent 10 years with Eagle Global Logistics in a variety of management positions.
Vaughn attended the University of North Carolina in Chapel Hill, NC, where he received a Bachelor of Arts degree in 1993, majoring in Speech Communications with a minor in Business.
In 2009, Vaughn received a Master's of Business Administration degree from J. L. Kellogg School of Management at Northwestern University.
A member of the Council of Supply Chain Management Professionals and the Executives' Club of Chicago, Vaughn has also been recognized by the Madison and Strathmore's €œWho's Who€ lists of business leaders and professionals.
Vaughn and his wife, Jennifer, have been married for 11 years and have an 8-year old daughter, Olivia. The couple currently resides in St. Charles, IL.
Tina L. Frattaroli – Co-chair of the KVC Fund Raising Committee
Tina Frattaroli is a Global Platform Manager at Stepan Company in Northfield, Illinois. Her responsibilities include Profit and Loss management across the Softeners and Quaternium businesses, setting pricing, asset management and profit optimization. Tina also holds a seat on the Mexican operating committee for Stepan. Prior to joining Stepan, Tina worked for Dow Chemical for seven years. While at Dow she held several positions with increasing responsibility in global market management, global business development and technical sales for various Dow businesses. Her most recent role at Dow was Global Market Manager for ANGUS Chemical Company, a wholly owned subsidiary of Dow. At ANGUS Tina was responsible for setting and leading the strategic direction of the rubber and metal working fluids businesses. Prior to joining ANGUS Tina worked for Dow Biocides as a Global Market Manager.
Outside of work, Tina volunteers with PAWS Chicago, (Pets Are Worth Saving) where she sits on the Professional Board and participates in several adopt-a-thon and community events.
Tina holds a Masters degree in Business Administration from Kellogg School of Management, Northwestern University, a Bachelor of Science degree in Chemical Engineering from Wayne State University, and a Bachelor of Science degree in Microbiology with Chemistry minor from the University of Windsor.